---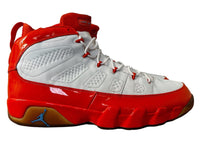 Item
Air Jordan IX (9)


Description

These PE's were made for Darius Miles

 

during his tenure with the Cleveland Cavaliers 

in 2004.
These sneakers are one of a kind and are extremely hard to come around, so don't miss out on this chance of owning this pair! They can be a great addition to any collection. These shoes now days are getting very impossible to find!
 
These sneakers are Guaranteed 100% Authentic, so please do not bother asking me if these are real as I do not sell or support fakes or variants.